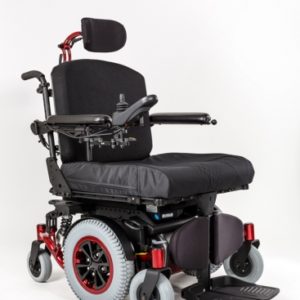 Amy Systems All Track HD (Mid-Wheel)
The Alltrack HD Series is a versatile, very heavy-duty mid-wheel drive power wheelchair with a standard weight capacity of 550 lbs (250 kg). This model is ideal for people sharing their time between indoor and outdoor activities, as it allows for easy maneuvering over routine obstacles. The Alltrack HD is no exception to any other Alltrack as its interactive 6-wheel suspension, along with the seat suspension, both enhance the stability, mobility and comfort for all users. It is the only bariatric power wheelchair with a suspension of its kind, and it comes with an extremely short turning radius of 20.5" (520 mm).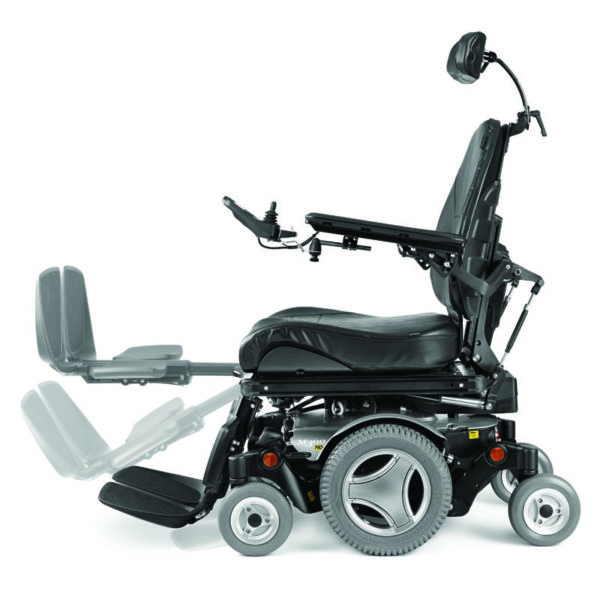 Permobil M300 HD (Mid-Wheel)
M300 Corpus® HD is a heavy-duty power wheelchair designed specifically for users up to 450 lbs. The M300 base is highly maneuverable and has been both extended and widened for the HD model, while the suspension has been strengthened for an overall more stable platform. The HD also has extremely sturdy arm and leg rests as well as wider footplates to create additional room and comfort. The M300 HD features the world-renowned Corpus seating system for the ultimate in comfort with an unmatched power tilt range of 0 — 45° and an unprecedented recline of 85 — 150°. The ultra-strong actuators allow users to safely elevate their feet above their hearts, while the durable mesh-style upholstery helps keep moisture away from the body. With the legendary power and toughness of Permobil, the M300 Corpus HD is built to withstand the rigors of any heavy-duty lifestyle.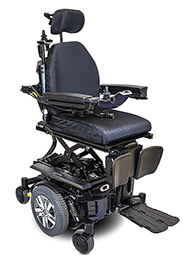 Quantum Q6 Edge HD
With features like standard 6.2 mph motors, advanced responsiveness, and optional iLevel® power adjustable seat height, the Q6 Edge® 2.0 Power Chair is engineered to meet the performance needs of the most active user. The Q6 Edge 2.0 Power Wheelchair accepts a complete range of seating and electronics options to deliver exceptional rehab capability at an excellent value.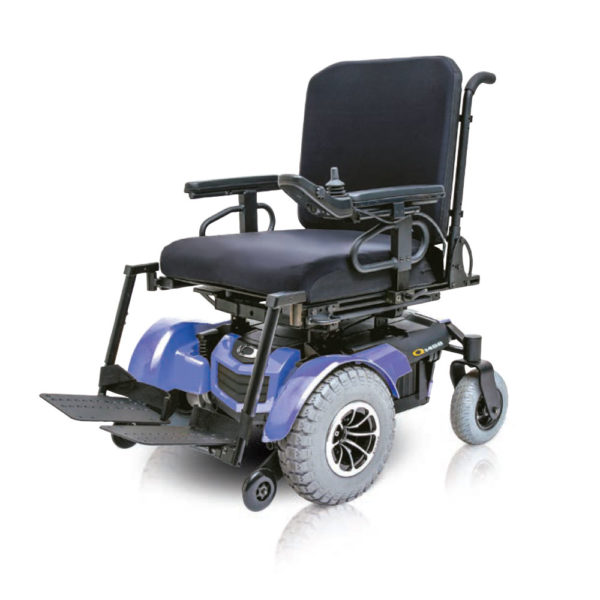 Quantum Q1450 HD
The Quantum® 1450 front-wheel drive bariatric power base features an innovative design that provides exceptional outdoor performance while delivering outstanding tight-space maneuverability. The 1450 accepts a complete range of rehab seating and electronics options.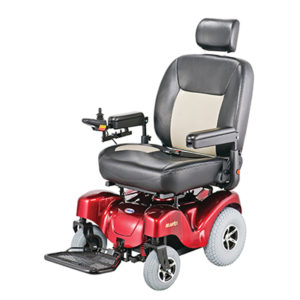 Merits Atlantis (Holds 600 lbs)
The Atlantis is a super heavy-duty power wheelchair with unique and prominent design with a weight capacity of 600lbs.  Four seat posts provide more stable and a durable structure for the frame. Extra-wide seat and extra-high back provide great comfort for bariatric users. Super high power in-line motors help riders negotiate 10° uphill ramps easily.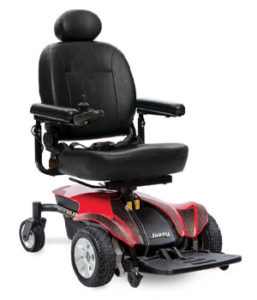 Pride Jazzy Elite HD (Holds 450 lbs)
FDA Class II Medical Device*
The Jazzy® Elite HD features two-motor, front-wheel drive technology and heavy-duty construction. The Jazzy Elite HD features 14" drive wheels for enhanced outdoor performance combined with a front-wheel drive design to provide tight turns for optimal indoor maneuverability in small spaces. Large front wheels add extra absorption for superb climbing capabilities and combine with front anti-tip wheels for handling various terrains with ease. Enhanced 450 lbs. weight capacity. Front-wheel drive design for excellent maneuverability. 14″ knobby tires and optimum weight distribution provide superior traction. Larger foot platform. 60amp controller.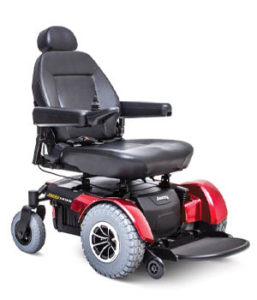 Pride Jazzy 1450
FDA Class II Medical Device*
The Jazzy® 1450 offers heavy-duty construction and performance components including upgraded motors, a reinforced frame, 90-amp PG VR2 controller and speeds up to 4.5 mph. This bariatric power chair features a 600 lb. weight capacity, front-wheel drive for superb indoor maneuverability in the tightest of spaces and large front drive-wheels for extra absorption over obstacles. The Jazzy® 1450 combines superb climbing capabilities with front anti-tips for transitioning over grade changes and handling various terrains easily. Seat dimensions up to 32″ by 28″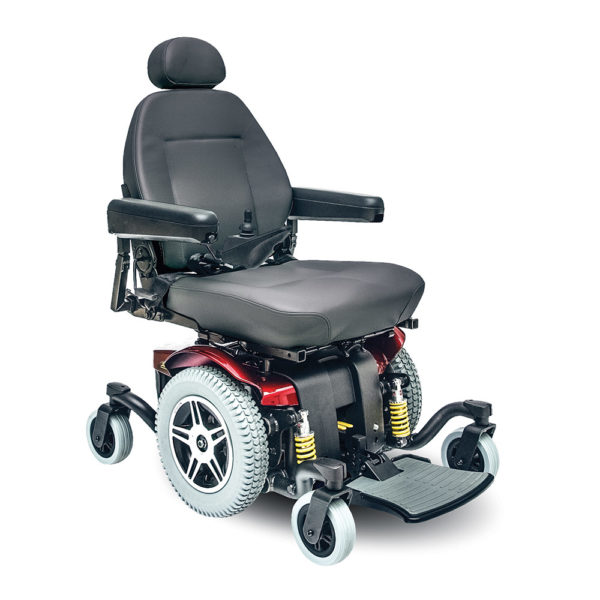 Jazzy 614 (Holds 450 lbs)
FDA Class II Medical Device*
The Jazzy® 614 HD features patented Mid-wheel 6® technology and Active-Trac ATX Suspension for an outstanding level of performance, maneuverability and tight turning radius, all in one heavy-duty package. Independent front casters raise and lower as needed to compensate instantly for changes in terrain, making transitions easy. All-around performance indoors and out over most surfaces, inclines and slopes, makes the Jazzy 614 HD an excellent heavy-duty power chair choice. 450 lbs. weight capacity, 6" casters on front & rear for maximum stability. Easy rear access to batteries. Seating up to 24" W x 24" D. Depth adjustable foot platform.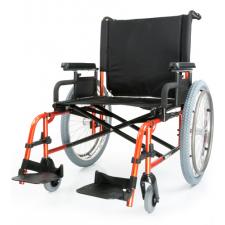 Sunrise M6 Quickie 2 with Extender HD
Quickie M6 heavy duty wheelchairs are a custom bariatric wheelchair with a weight capacity of 650 pounds. The Quickie M6 is modeled from the design of the popular Quickie 2 wheelchair. It is made of high strength steel and weighs approximately 53 pounds, 26″ x 20″ with pneumatic rear wheels and footrest hangers.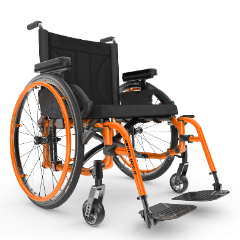 Motion Composites Helio C2 HD
The Helio C2 HD Carbon Fiber Ultralightweight Wheelchair by Motion Composites provides the ease of portability of a typical folding wheelchair with the great benefits of ultralightweight rigid chairs. Highly configurable, ultralight and super adjustable, the Helio C2 HD. The Helio C2 HD raises the weight capacity to 350 lbs. 
PDG Eclipse Extra-wide Bariatric Wheelchair
PDG Eclipse extra-wide bariatric wheelchair has a unique wheelbase design that ensures most of the weight is carried on the rear wheels and allows front casters to pivot and roll with ease. The wheelchair is easy to transport as its back, rear wheels, armrests and front rigging can easily be removed. Eclipse wheelchair features reclining back option that reclines up to 30° and has a rigid frame that provides high strength and stiffness. It has a weight capacity of 600 lbs that can be upgraded to 1000 lbs according to the user needs.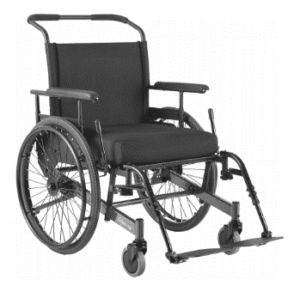 PDG Eclipse (Bariatric – up to 1000 lbs)
The Eclipse is a rigid manual wheelchair designed for bariatric users. Available in a wide array of sizes, the Eclipse supports up to 1000 lbs. Forward extended casters achieve optimal weight balance on the rear wheels for excellent maneuverability. Overall width is one of the narrowest available allowing for improved door clearance. Dynamic back recline option. Removable armrests and front rigging for easy transport. Removable back and rear wheels for easy transport. Transit tie downs are now available up to 600 lbs.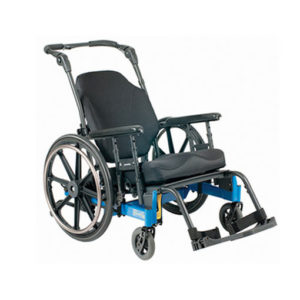 PDG Bentley (Tilt in Space)
The Bentley is a Manual Tilt-in-Space Wheelchair designed to offer up to 20° of tilt from the front of the seat, making it an excellent choice for postural positioning and allowing the user to keep their feet on the ground even while the chair is tilted. With a short wheelbase and easy foot and hand propulsion in tilt the position, the Bentley is truly designed to provide the benefits of tilt with mobility independence. Available in heavy duty / extra wide.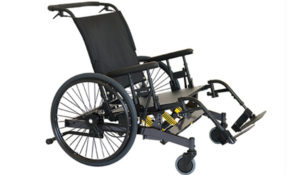 PDG Stellar HD (Tilt in Space, Bariatric)
Designed for individuals that require optimal pressure relief and positioning, the Stellar has a weight capacity up to 600 lbs. and is one of the only manual tilt-in- space wheelchairs in the market that offers up to 45° of tilt while maintaining a low knee rise. Its unique and durable architecture allows the chair to be maneuvered under tables while tilted, letting users participate in normal dining and a wide variety of social activities. Sizes up to 320 With a reclining back option – up to 120°
* Pride FDA Class II Medical Devices are designed to aid individuals with mobility impairments