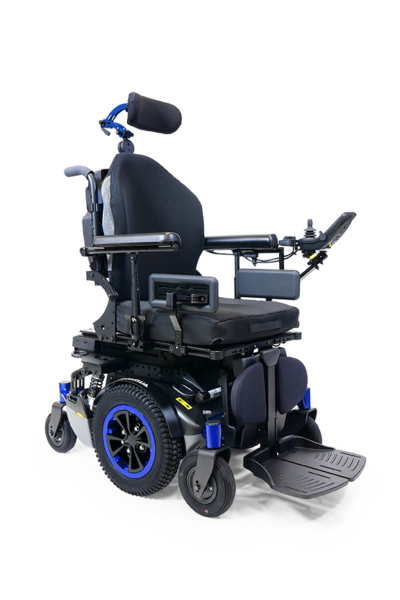 Amy Systems All Track M3 (Mid-Wheel)
The Alltrack M Series is a mid-wheel drive power wheelchair with a standard weight capacity of 300 lb (136 kg) with an HD option of up to 450 lb (205 kg). It is ideal for an active user sharing their time between indoor and outdoor activities. This Mid-Wheel Drive power wheelchair allows the user to easily maneuver over day-to-day obstacles while affording unsurpassed stability provided by its suspension and exclusive 8" (205 mm) front casters (optional).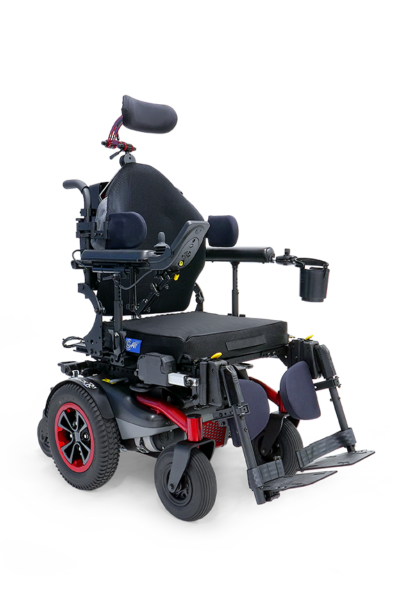 Amy Systems All Track R (Hybrid Rear Wheel)
The Alltrack R Series is a unique Hybrid drive power wheelchair that has become an excellent choice for active people who like to spend time outdoors while still maneuvering comfortably indoors. Why is it a Hybrid? The Alltrack R series is Hybrid because it combines the best features from both mid-wheel and rear-wheel drive models, packed all into one wheelchair.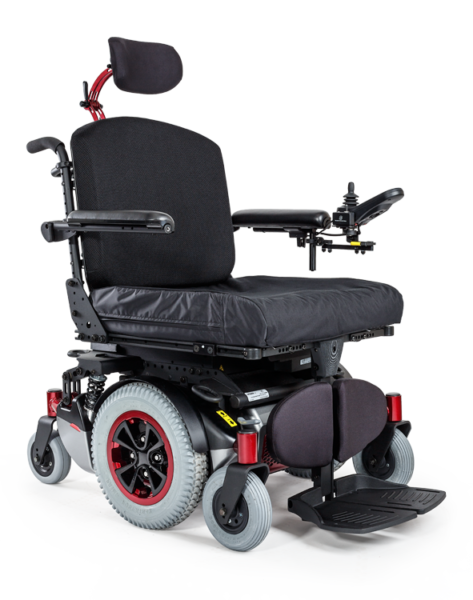 Amy Systems All Track HD (Mid-Wheel)
The Alltrack HD Series is a versatile, very heavy-duty mid-wheel drive power wheelchair with a standard weight capacity of 550 lbs (250 kg). This model is ideal for people sharing their time between indoor and outdoor activities as it allows for easy maneuvering over routine obstacles. The Alltrack HD is no exception to any other Alltrack, as its interactive 6-wheel suspension and seat suspension both enhance the stability, mobility and comfort for all users. It is the only bariatric power wheelchair with a suspension of its kind, and it comes with an extremely short turning radius of 20.5" (520 mm).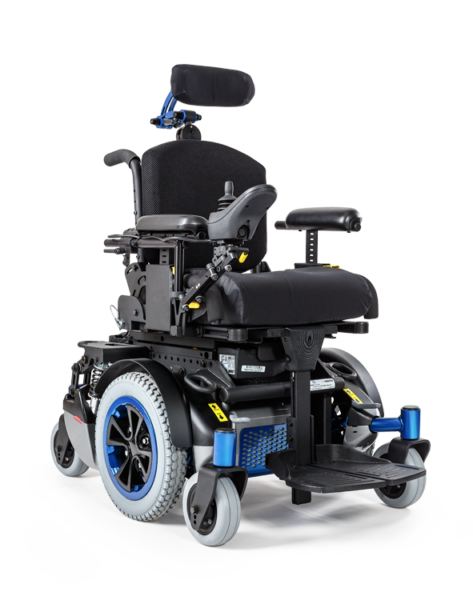 Amy Systems All Track P (Pediatric)
The Alltrack P Series is a Pediatric configuration that has the option of being placed on either one of our Alltrack M mid-wheel or Alltrack R Hybrid bases. It is ideal for the most active kids sharing their time between indoor and outdoor activities. Whether it's for hanging out with friends outside, playing sports, riding around the house or at school, nothing will get in its way. The Alltrack P Series is truly a modular power wheelchair that can be equipped from the most basic configuration to the most complex. On both mid and Hybrid drive configurations, the interactive 6-wheel suspension, along with the seat suspension, both enhance the stability, mobility and comfort for all children riding in an Alltrack P Series.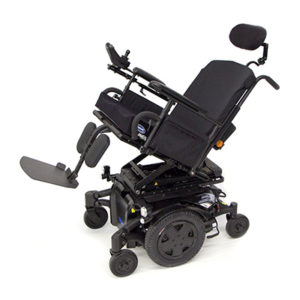 Invacare TDX SP 2
The Invacare TDX SP2 Power Wheelchair with Motion Concepts Ultra Low Maxx Positioning System and new LiNX Technology platform is designed for people seeking exceptional driving performance, elegant design, comfort and remarkable stability. Center Wheel Drive (CWD) provides the smallest turning diameter and smallest overall footprint vs FWD and RWD for optimum maneuverability. Premium solutions for the most clinically complex needs with Motion Concepts Ultra Low Maxx (ULM) Power Positioning System: tilt, elevate and power leg rests. G-Trac Technology helps provide precise tracking for imprecise environments such as side slopes, uneven or soft ground, or even bunched up carpets or door jambs. SureStep Suspension and Stability Lock work in synergy to help maintain balance and provide stability when transitioning over obstacles.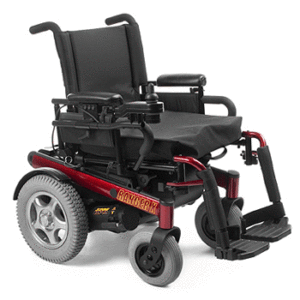 Invacare 3 G Ranger X Storm
The 3G Ranger X rear-wheel drive power wheelchair is the Heavy-Duty model of the 3G Storm Series. Also available with TrueTrack technology, the Ranger X allows you to maximize function with a la carte choices, selecting options as needed, resulting in a customized product with a sporty look highlighted by exposed suspension, aluminum mag wheels and a wrap-around battery enclosure. Adjustable Rehab Seat featuring width & depth adjustment in 1″ increments. Monroe Spring Shock Rear-Wheel Suspension System. Optional TrueTrack Technology, which minimizes the need for veer correction. Standard w/ 4-Pole motors & Heavy-Duty Gear box for additional power. Standard with MK6i Electronics, including a MK690 Controller & an MPJ+ Joystick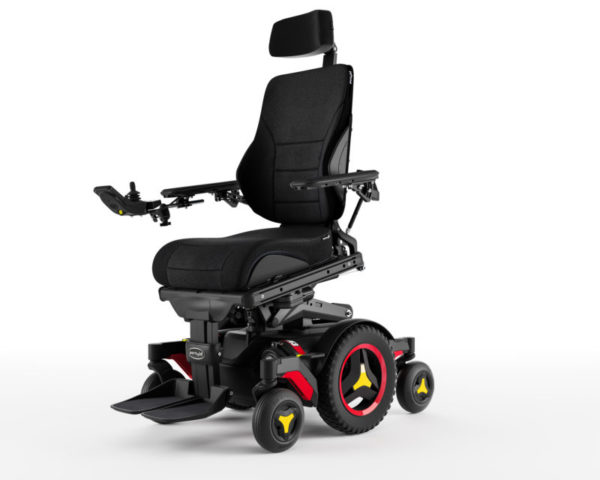 Permobil M3 (Mid-Wheel)
The F3 Corpus offers the smallest footprint of the F-series front-wheel drive power wheelchairs. Its compact size and agility allows users to easily maneuver in and out of tight spaces. The optimized battery weight distribution, lower center of mass, and fully adjustable ComfortRide suspension improve stability while traversing inclines or declines. Experience the enhanced functionality of the F3 by combining outstanding chassis performance with Permobil's industry-leading Corpus Seating System offering 12 inches of ActiveHeight and up to 30º of ActiveReach forward-tilt technology.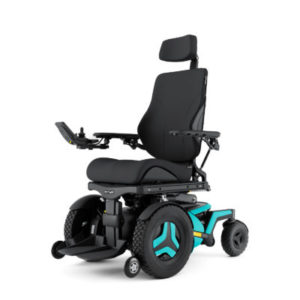 Permobil F5 (Front Wheel)
F5 Corpus power wheelchair, with a blazing 7.5 mph top end speed and upgraded ComfortRide Pro suspension, is all-wheel independent, fully adjustable, with oil-dampened shocks that provide the ultimate in ride comfort and help reduce vibrations that can transfer from terrain up to user. Experience enhanced vibration reduction driving in all seat positions including an unprecedented 14" ActiveHeight seat elevation. Climb and reach higher with increased obstacle negotiation, exceptional motor torque, and enhanced stability allowing up to 45° of ActiveReach forward-tilt functionality. Standard performance options include aggressive tread tires, caster mudguard protection and three premium metallic colors.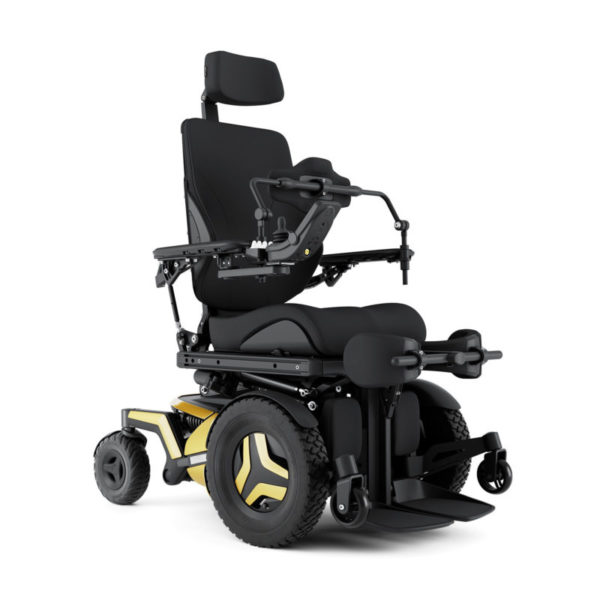 Permobil F5 (Front Wheel Stander)
We combined all of the performance features of the F5 Corpus with superior power standing wheelchair functionality. Fully programmable standing sequences allow user's position to be optimized using supine, semi-reclined or sit-to-stand techniques. Further customize standing positions with adjustable anterior chest pad, moldable knee supports and power articulating footplates. From face-to-face interactions to improved health outcomes, the F5VS empowers you to explore the vast array of standing wheelchair benefits.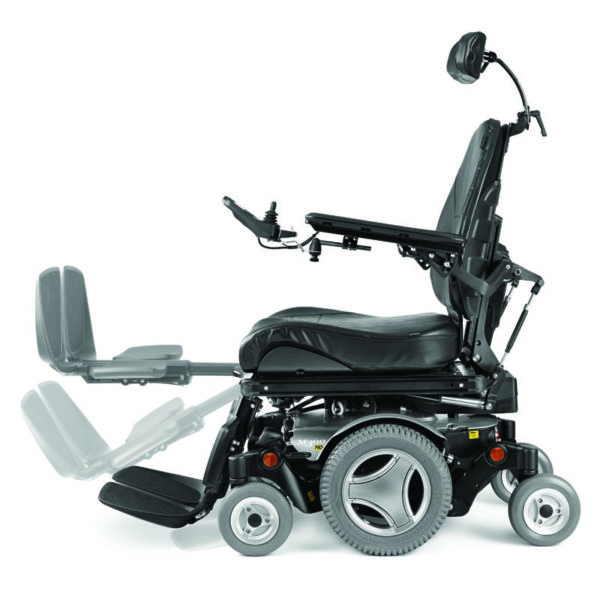 Permobil M300 Corpus HD - Bariatric
The next step in the evolution of the Corpus® strengthens the design by increasing the weight capacity to 450lbs while maintaining power functions, quality and comfort.
Sunrise Q 700 M (Mid-Wheel)
The Q700 Mid-Wheel Drive base sets the bar for powered wheelchair technology, inside and out. Travel farther with its superior drive-performance and feel secure over challenging terrain with SpiderTrac™ 2.0 suspension with its independent movement of all 6 wheels. It's a driving experience like never before.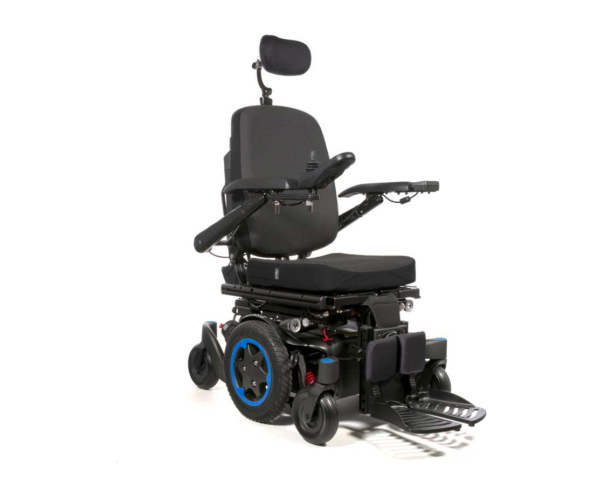 Sunrise Q 500 M (Mid-Wheel)
Compact design. The new QUICKIE Q500 M power wheelchair balances superb indoor maneuverability with outstanding performance and head-turning style. All of this, combined with the benefits of the highly customized SEDEO PRO seating and the most advanced controls, creates the perfect power wheelchair for any adventure.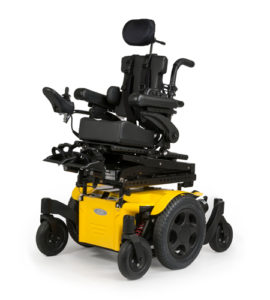 Sunrise ZM 310 (Pediatric)
The Zippie® ZM-310® combines our smallest, most reliable kid's power wheelchair base with clinically proven pediatric seating and positioning options to provide children with maximum accessibility and independence.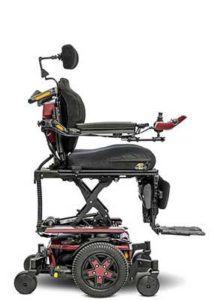 Quantum Edge 3 (Mid-Wheel)
i. Quantum Edge 3 mid wheel power wheelchair offers SRS (Smooth Ride Suspension), which provides a smooth, comfortable ride and advanced stability. Optional iLevel® is available at 4.5 mph with up to 12o of power adjustable seat height. Extra Stability Technology® for safer transfers, reach and other activities of daily living. Q-Logic 2 Advanced Drive Controls with Bluetooth®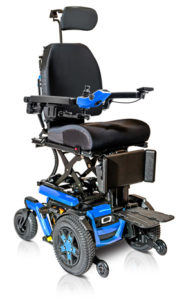 Quantum 4 Front (Front Wheel)
The 4Front® is a quiet, more responsive front-wheel drive power chair that features automotive-grade suspension with unprecedented comfort and ride quality. The 4Front's CASE (Caster Angle Sensor Encoder) technology and SRS (Smooth Ride Suspension) provide stability for smooth obstacle transitions and unmatched driving performance. The 4Front features standard speeds of up to 6 mph in the lowered position, and speeds up to 3.2 mph while elevated at 10″ with our optional safe seat elevation. Standard LED fender lights allow you to see and be seen.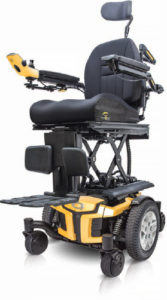 Quantum Q6 Edge HD (Mid-Wheel)
With features like standard 6.2 mph motors, advanced responsiveness, and optional iLevel® power adjustable seat height, the Q6 Edge® 2.0 Power Chair is engineered to meet the performance needs of the most active user. The Q6 Edge 2.0 Power Wheelchair accepts a complete range of seating and electronics options to deliver exceptional rehab capability at an excellent value.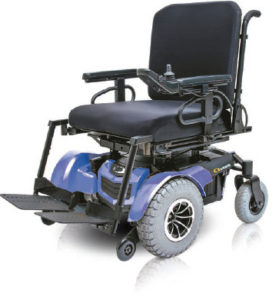 Quantum 1450 HD (Front Wheel) Bariatric
The Quantum® 1450 front-wheel drive bariatric power base features an innovative design that provides exceptional outdoor performance while delivering outstanding tight-space maneuverability. The 1450 accepts a complete range of rehab seating and electronics options.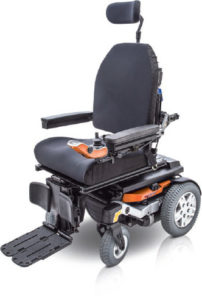 Quantum Rival (Rear Wheel)
The Rival® rear-wheel drive power chair features an innovative design that provides exceptional outdoor performance and handling while delivering outstanding tight-space maneuverability. The Rival accepts a complete range of rehab seating and electronics options.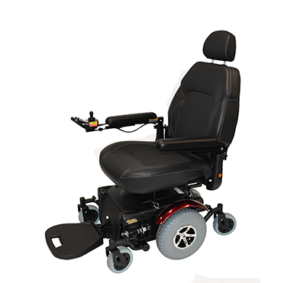 Merits Vision Super
Mid-wheel drive design delivers outstanding maneuverability in tight, compact spaces and a smooth stable ride both indoors and outdoors even over rough terrain. Height and width adjustable armrest, semi reclining backrest with height adjustable seat. Footplate is rated to hold 250lbs and rear casters will not tip. Dual in-line motors for enhanced efficiency, torque, range and performance. Lap Belt (Standard with chair) and full suspension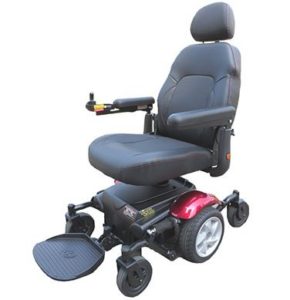 Merits Vision Sport
i. The Vision Sport is a true center wheel drive power chair with six wheels on the ground. This along with a robust suspension allows the Vision Sport to handle diverse terrain. The standard Vision Sport comes with the LiNX controller that allows for easy Bluetooth diagnostics and programing. The contoured semi-recline high back seat is not only stylish with contrasting stitching but is comfortable for all day use.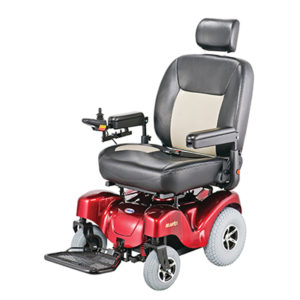 Merits Atlantis (Holds 600 lbs)
The Atlantis is a super heavy-duty power wheelchair with unique and prominent design with a weight capacity of 600lbs. Four seat posts provide more stable and a durable structure for the frame. Extra-wide seat and extra-high back provide great comfort for bariatric users. Super high power in-line motors help riders negotiate 10° uphill ramps easily.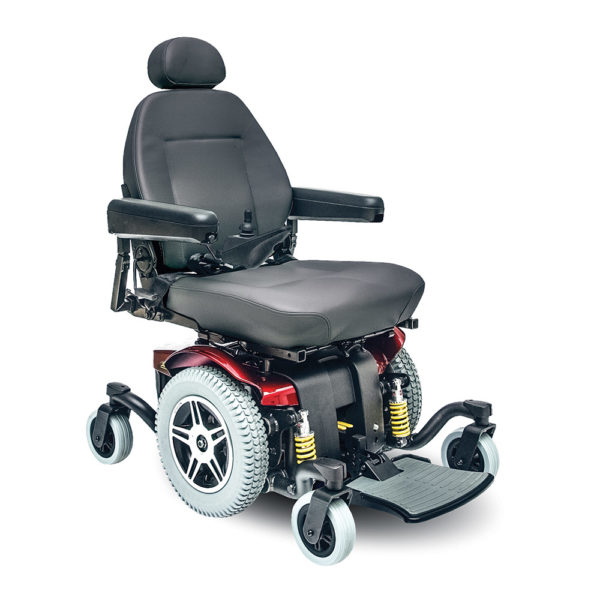 Pride Power Jazzy 614 HD
FDA Class II Medical Device*
The Jazzy® 614 HD features patented Mid-wheel 6® technology and Active-Trac ATX Suspension for an outstanding level of performance, maneuverability and tight turning radius, all in one heavy-duty package. Independent front casters raise and lower as needed to compensate instantly for changes in terrain, making transitions easy. All-around performance indoors and out over most surfaces, inclines and slopes, makes the Jazzy 614 HD an excellent heavy-duty power chair choice. 450 lbs. weight capacity, 6" casters on front & rear for maximum stability. Easy rear access to batteries. Seating up to 24" W x 24" D. Depth adjustable foot platform.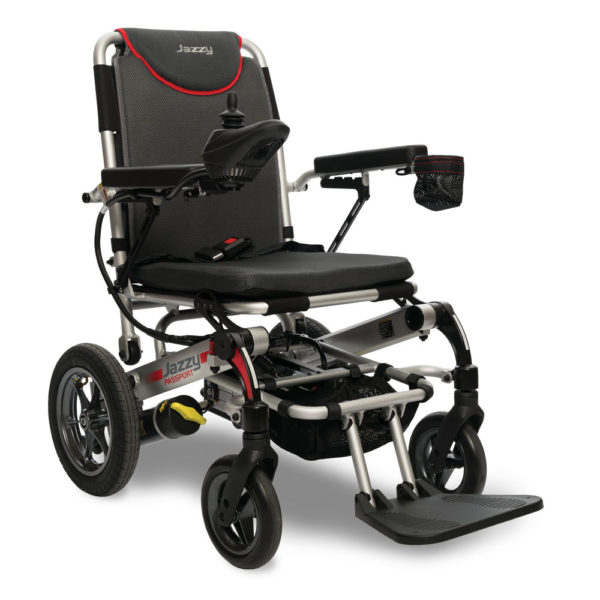 Pride Power Jazzy Passport
FDA Class II Medical Device*
Simply fold and travel with the Jazzy® Passport. This compact power chair folds in just a few steps and offers convenient storage and ample foot room. Travel in comfort with the Jazzy Passport. A compact and lightweight design makes traveling a breeze. Back seat pocket for extra storage while on-the-go. Folds in just a few simple steps for effortless transport. Includes convenient, under seat mesh storage bag, mesh cup holder and 40" lap belt. Large foot platform to accommodate the user's comfort. Specialty foam seat design for extreme comfort. Available with an air safe travel battery. (Check with airline prior to flying).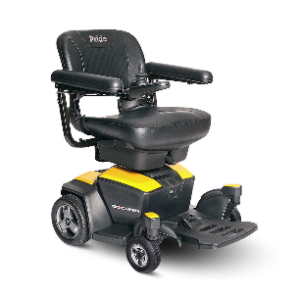 Pride Jazzy Go Chair
FDA Class II Medical Device*
The Go Chair is #1 for portability! With feather-touch disassembly, you can take your Go Chair to all your favorite places and enjoy greater independence. 300 lb. weight capacity. Convenient under seat storage keeps your personal items close at hand. Feather-touch disassembly easily disassembles into 5 lightweight pieces for transport and storage. Heaviest piece is only 36 lbs. 18″ x 17″, 5-point swivel seat with latch release. Speeds up to 3.7 mph. 18 amp batteries. Compact turning radius of only 25.4″. Height & width adjustable armrests. Large footplate and 60″ lap belt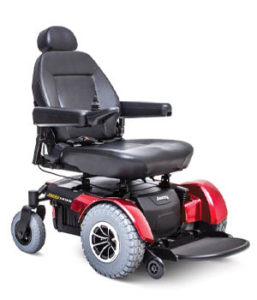 Pride Jazzy 1450
FDA Class II Medical Device*
The Jazzy® 1450 offers heavy-duty construction and performance components including upgraded motors, a reinforced frame, 90-amp PG VR2 controller and speeds up to 4.5 mph. This bariatric power chair features a 600 lb. weight capacity, front-wheel drive for superb indoor maneuverability in the tightest of spaces and large front drive-wheels for extra absorption over obstacles. The Jazzy® 1450 combines superb climbing capabilities with front anti-tips for transitioning over grade changes and handling various terrains easily. Seat dimensions up to 32″ by 28″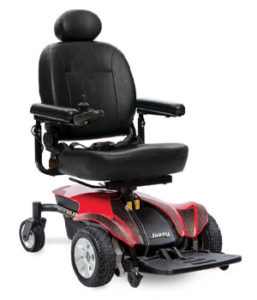 Pride Jazzy Elite HD (Holds 450 lbs)
FDA Class II Medical Device*
The Jazzy® Elite HD features two-motor, front-wheel drive technology and heavy-duty construction. The Jazzy Elite HD features 14" drive wheels for enhanced outdoor performance combined with a front-wheel drive design to provide tight turns for optimal indoor maneuverability in small spaces. Large front wheels add extra absorption for superb climbing capabilities and combine with front anti-tip wheels for handling various terrains with ease. Enhanced 450 lbs. weight capacity. Front-wheel drive design for excellent maneuverability. 14″ knobby tires and optimum weight distribution provide superior traction. Larger foot platform. 60amp controller.
* Pride FDA Class II Medical Devices are designed to aid individuals with mobility impairments