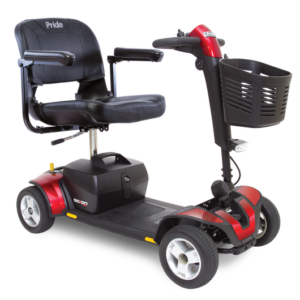 Pride Power Go-Go Sport 4-Wheel
FDA Class II Medical Device*
If you're seeking a sturdy scooter that's light enough for easy transport, look no further. The Go-Go Sport combines the take-apart convenience of a travel scooter with the longer frame and roomier feel that so many riders are looking for. Super features include powerful 18 AH batteries for a 14.5 mile max range and a 325 lb weight capacity. Easy Feather-Touch disassembly lets you transport your scooter in five easy pieces – the heaviest piece weighs 44 lbs and the components will fit in the back of most cars.
The longest of Pride's travel scooter line-up, the Go-Go Sport is sturdy and stable enough for outdoor riding. The overall length of the Go-Go Sport 4-wheel is 43", and the turning radius is 50.5". The Go-Go Sport 4-Wheel features an additional charging port conveniently located up on the tiller for easy access and convenience. Large 18 AH batteries are standard, allowing you to travel up to 14.5 miles per charge. The flat-free tires are 3" wide for increased traction and safety.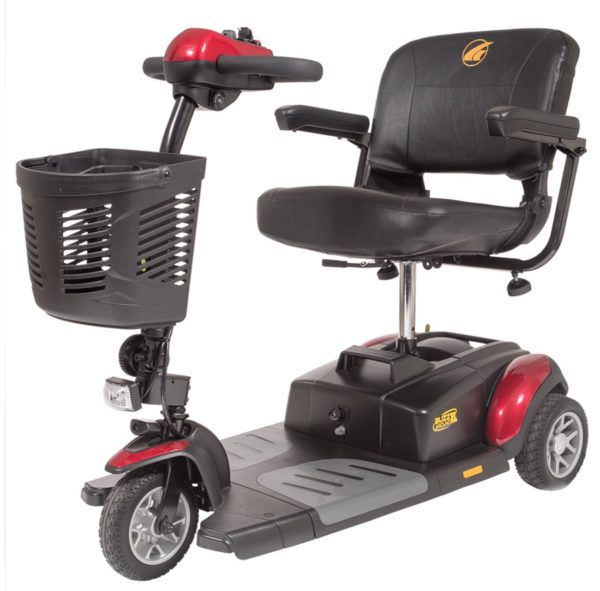 Buzzaround Power XLHD Scooter
Buzzaround XLHD 3-Wheel Scooter offers the easy transportability of smaller travel scooters in a heavy duty format. An increased weight capacity of 325 lbs, and long range 22 AH batteries give it the extra power you'd expect from an HD model. It incorporates a longer foot platform for greater riding comfort. The overall length is 42.5 inches, and yet it still turns in a tight 37" radius, giving it superior maneuverability indoors.
The Buzzaround XLHD disassembles easily, and there are no wire connections to be made, so it's a breeze to take apart and reassemble when you get there! Taken apart, the heaviest piece weighs just 35 lbs. The standard 22 AH batteries will travel up to 14 miles on a charge.
Three features set the Buzzaround XLHD apart from other scooters in its class. First, Golden Technologies has upgraded the build to a 325 lb capacity, and added 22 AH batteries as standard equipment. Second, the quality and comfort of the standard 18" X 16" stadium style seat are obvious from the start. If you like a little more room in the seat, you can upgrade to a generous 20" X 18" seat for even greater comfort. Third, is the 3" longer frame, and the way the foot platform is designed with extensions on each side of the tiller for even more room to stretch out your legs.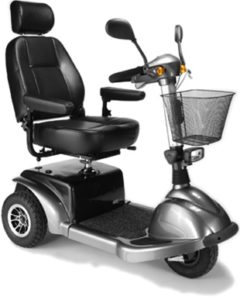 Drive Medical Prowler 3-Wheel (500 lb Capacity)
Drive Medical's sturdy Prowler 3-wheel scooter has a 500 lb weight capacity and is loaded with luxury features you would expect to cost more! Travel outdoors in total comfort with the easy to adjust high back captain's seat, which slides forward and back and swivels 360 degrees to help getting on and off. The seat comes standard in a 20" width, but a 22" width is available as an option as well. The seat also reclines, and easily folds forward for transport. The delta-style tiller gives you lots of room to grip for steering safety and control, since this scooter will travel up to 7 MPH. A hand-operated drum brake is an additional safety feature for quick stops! Head and tail lights, turn signals, brake and back-up lights are included, as well as double rear-view mirrors.
The 5-inch ground clearance and 7.5 degree climbing angle make the Prowler stand out from the crowd. The 12 inch X 3.5 inch air-filled tires give it traction far superior to scooters with solid tires, and combined with a full suspension, this is one sweet ride. A maximum driving range of 23 miles plus the 50 inch turning radius of the Prowler 3-wheel make it dependable for traveling around town, but still maneuverable in tight spots.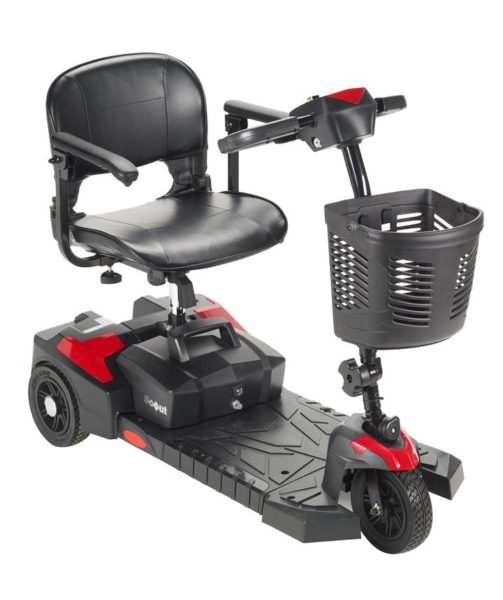 Drive Medical SF Scout 3 Scooter
The Scout transportable scooter combines easy and convenient mobility with superior value.
The Scout is compact, lightweight and easy to disassemble – perfect for taking you wherever you want to go, either around the neighborhood or far from home. It can be disassembled quickly and easily into five easy-to-handle pieces for loading into a car, truck, or van and taking shopping or on vacation.
The 3-wheel version of the Scout allows for nimbly negotiating indoor obstacles. The Scout also offers great features like a quick connect battery pack and a delta-style tiller to make operating the scooter easier for those with limited strength or dexterity. This model comes with color-through panels to hide scuffs and scratches, and black wheel rims.
* Pride FDA Class II Medical Devices are designed to aid individuals with mobility impairments