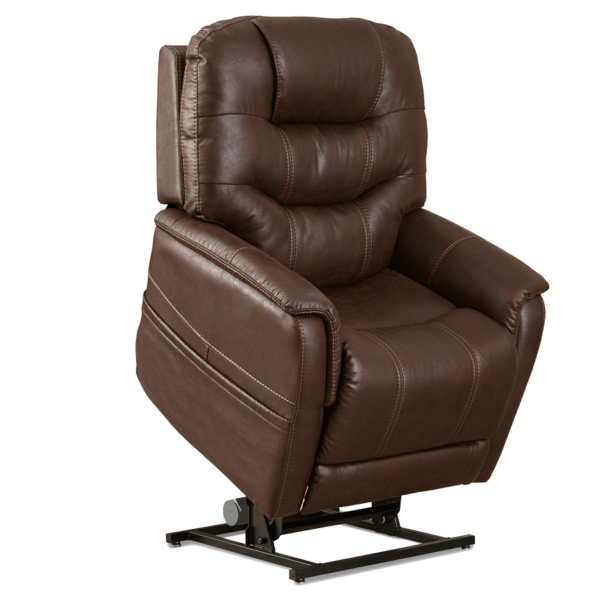 Pride Mobility Viva Lift Chair
FDA Class II Medical Device*
The Elegance is part of Pride's new VivaLift!® Power Recliner line.  The Elegance has the appearance of a chair you have loved for years, but includes new technology to give you all the comfort you desire.  The seamed pillowed backrest with blown fiber stuffing gives you cloud-like support for your head and back.  To offer even more comfort, a power adjustable headrest allows you to bring your head forward for viewing or recline the head back to fully relax. A contoured back provides proper support for your upper and lower back.  You can then fine tune your back support with the power adjustable lumbar pillow.
Usually you do not get contour combined with power adjustability and full padding.  The Elegance has all three in abundance.  The contoured seat helps keep you centered in the chair so you can take full advantage of the backrest.  Fully adjustable head and lumbar pillows help position you with the proper support and comfort you desire.  A fully padded chaise gives you great leg support and the standard leg extension is well padded to keep your feet and lower legs comfortable. Incorporated in the hand control is a handy USB port so you can re-charge electronic devices while you relax!
It's a special chair that looks like an old friend but is still stylish enough to fit contemporary decor.  The warm looks of the Elegance will draw you to the chair every time you enter the room and the extensive padding will make you comfortable every time you sit down.  The contouring of the seat and back will give you all the support you desire, while the power adjustability of the lumbar and headrest will take that comfort one step further than what you would have expected.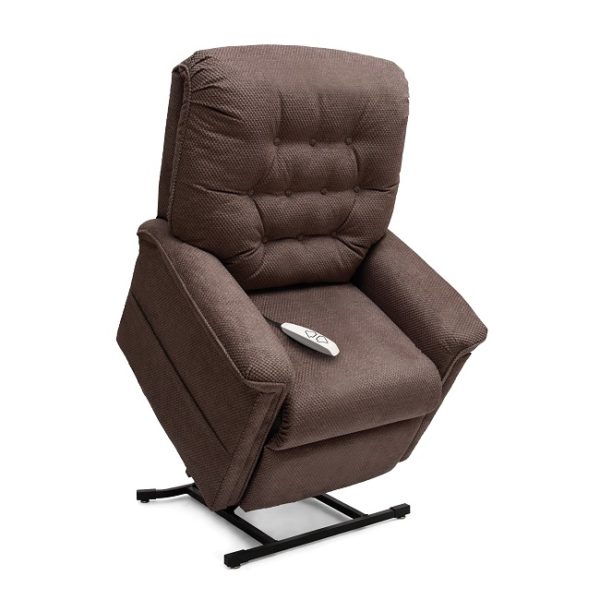 Pride Mobility Heritage 3-Position Lift Chair
FDA Class II Medical Device*
The Pride Heritage Lift Line LC-358 3-position lift chairs offer a great lift chair at an affordable price. The Heritage Line Lift Chairs are available with a full list of standard features like an integrated battery back-up, a full chaise pad, a heavy-duty motor and actuator, and an extremely durable frame. They are also available with heat and massage, and a number of great upholstery choices. When selecting a petite wide, medium, or large size, your Heritage LC-358 will include a built-in footrest extension that adds an extra 2 1/2″ of heel support.
A great value that combines superior design with exceptional strength! The LC-358 comes with arm and headrest covers and dual side pockets that can conveniently store your TV remote, newspaper, or whatever else you want at hand's reach. The easy-to-use hand control features a USB charging port, allowing you to charge your phone or tablet in the chair without the need for extension cords that could tangle in the lift chair (*USB charging port not available with heat and massage). The LC-358 features the unique offer of the First Up Quick-Lift technology, which provides a steady, yet gentle speed boost to your chair's lifting motion. Whether you need to get to a ringing phone, answer the door, or check on the oven – the First Up Quick-Lift system will help lift you 50% faster than conventional lift chairs (*This industry-first system is not compatible with deluxe heat and massage upgrades).
A wide variety of fabric options that make decorating a breeze. This plush and welcoming chair provides not only a contemporary appeal, but is finely crafted with durable and long-lasting components. The lift actuator is heavy-duty without sacrificing a quiet and smooth operation. The back is removable with no tools required. The 358 is built with an integrated footrest extension that adds an additional 2 and a half inches to the footrest.
* Pride FDA Class II Medical Devices are designed to aid individuals with mobility impairments